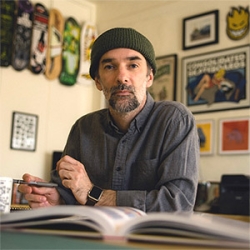 Gordon Eckler
Lecturer Faculty
Principal Creative + Founder @ Plaid Again Graphic Design
Phone: (415) 338-2211
Email: eckler@sfsu.edu
Location: Zoom
Originally from the Baltimore/Washington area, Gordon attended the Maryland Institute College of Art where he received his B.F.A. in Graphic Design (2001). 
Since relocating to the San Francisco Bay Area in 2004, he has worked in multiple creative positions (and industries) ranging from publication design, advertising agencies, film production studios, corporation titans, and early-stage startups. His design practice includes editorial, brand identity, packaging, advertising, event branding, trade show booths, and event activations. 
In the Spring of 2020, Gordon decided to step down from a Senior Art Director position on a large corporate internal creative team and founded the Alameda-based design studio Plaid Again where he holds the position of Principal Creative and oversees all aspects of the business.