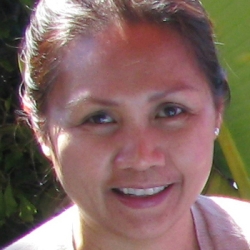 Socorro Soberano
Lecturer Faculty
Phone: (415) 338-2211
Email: ssoberano@sfsu.edu
Location: Zoom
Office Hours:
Wed:
9:00 am - 10:00 am, 10:00 am - 11:00 am, 11:00 am - 12:00 pm
Socorro M. Soberano, M.F.A., has taught graphic design in the Bay Area since 2002. Her first teaching experience started at The Art Institute of California – San Francisco where she taught all levels of graphic design for twelve years. She also spent 2.5 years as a part-time instructor at the University of California Berkeley Extension's Professional Program. Currently, she teaches at City College of San Francisco's Visual Media Design entering her 13th year.
Prior to teaching full-time, she worked as a senior designer for a national organization specializing in corporate identity, print collateral, and publication design. Her design strengths are in typography, layout design and conceptual projects. She received her Masters of Fine Arts (M.F.A.) degree from Rhode Island School of Design (RISD) and Bachelors of Fine Arts (B.F.A.) degree in Graphic Design from the University of Illinois, Champaign-Urbana.