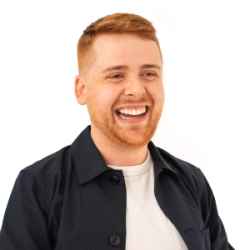 Treyce Meredith
Lecturer Faculty
Phone: (415) 338-2211
Email: treycemeredith@sfsu.edu
Location: Zoom
Treyce Meredith is a goofy, creative and upbeat human. Currently, he is a senior product designer at OpenTable helping restaurants operate as best as they can.
Treyce also speaks about accessibility and inclusive design, his talk "Designing for Learning Disabilities" has been given internationally.
Treyce holds a B.F.A. from California College of the Arts in Interaction Design.