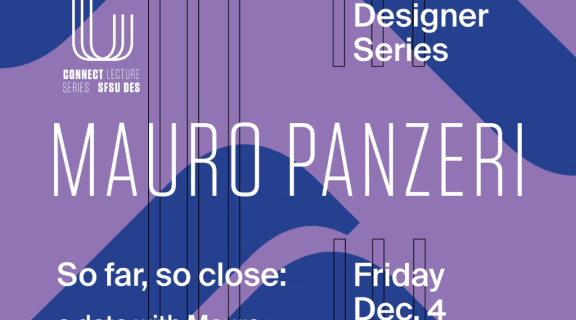 Connect Lecture Series Fall 2020: Mauro Panzeri
Friday, December 04
Event Time
09:45 a.m. - 11:00 a.m.
Contact Email
design@sfsu.edu
Overview
Join our fifth and final virtual Connect lecture of the Fall 2020 Semester!
Mauro Panzeri 
So far, so close: a date with Mauro Panzeri, Graphic Designer in Milan, Italy.
Mauro Panzeri (1954) graphic designer, lives and works in Milan, Italy. He graduated in Political Science with a thesis in Political Philosophy dedicated to Jean Baudrillard's thought.
Self-taught graphic designer with initial experience in graphic design studies as an apprentice. From 1976 to 1985 at the Studio Alchimia in Milano, a post-modern atelier of radical design.
Collaborator of Modo, an Italian design monthly; art director of Décoration Internationale, a French monthly, and later graphic designer for Domus, international architecture monthly, under the direction of Alessandro Mendini in the 80s.
1986 marks the beginning of GrafCo3, design studio specialized in editorial graphics. The studio has worked for clients such as IBM Italia, Domus Academy, Editoriale Domus, Triennale di Milano, Alessi, Olivari, Istituto Europeo di Design, Electa, Arcadia, ADI, LesCultures, Edizioni Ambiente, Prénatal, Gilco, WWF Italia, Cassina, Salani, Ponte alle Grazie, Longanesi, GeMS, Parole di Cotone, Bruno Mondadori, Barovier&Toso, Nemo, Metafora, Fondazione Wurmkos, Unimark International and many others, mixing brand projects, business communication, graphic design for exhibitions, art direction and book design.
In recent years he has been designing corporate identity, books and magazines. He is currently graphic designer and art director of the magazine Materia Rinnovabile/Renewable Matter for Edizioni Ambiente, and art director for the publisher's products.
Mauro Panzeri has been professor at the Milan Polytechnic for 15 years, Faculty of Industrial Design, Communication Department. He currently teaches Graphic Design for Publishing and Methodology at IED (Istituto Europeo di Design), where he is thesis supervisor in Graphic Design.
He cultivates a personal inclination to reflect on the themes of design and its changes. Critic of "the magnificent and progressive fortunes" of the technologies that have emerged in recent years, he uses them with pleasure for "out-of-time" projects that reveal their way of production.
Mauro Panzeri has written two books: La grafica è un'opinione (Graphic Design is an Opinion), Ledizioni, 2013, and Graphic Novel, Ledizioni, 2019; two diaries that mix personal experiences with more general themes.
Tags