The 58-unit Bachelor of Science in Visual Communication Design encompasses and integrates graphic design and digital media topics and offers additional study addressing advanced concepts and a changing technological landscape with new opportunities for education and profession. Students are prepared to collaborate with other design disciplines in technology, user experience and creative problem solving.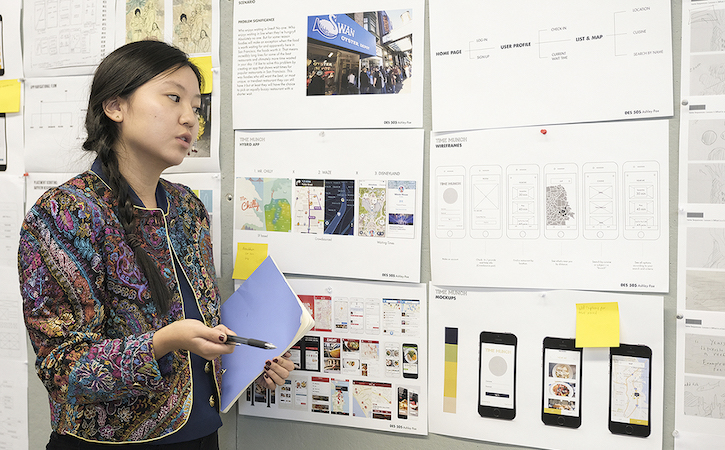 Vis Com Roadmap (This is the roadmap beginning Fall 2021. If you started earlier, you will see different requirements.)
Foundation 

First Semester in Major 

Second Semester 
Third Semester 
Fourth Semester 

 

6 units

 

16 units

 

15 units

 

15 units

 

15 units

DES 200*
DES 370*
DES 300*
DES 425*
DES 525 or 527
DES 222*
DES 322*
DES 325*
DES 427*
DES 505
 
DES 356*
DES 327*
DES Elective
DES 570
 
DES Elective
DES 324
DES Elective
DES Elective
 
UD GE B
DES Elective
DES Elective
DES Elective
 
UD GE D
 
 
 
* means this is a prerequisite class.
General Education Requirements Met in the Major
Upper-Division General Education, Arts and/or Humanities (UD-C) is satisfied upon completion of DES 356.
FOUNDATION REQUIREMENTS 6 units
DES 200     Visual Design Literacy    3
DES 222 Introduction to 2-D Digital Design    3
CORE COURSES 13 UNITS
DES 356 History Of Design And Technology (UD GE-C)    3
DES 370 Introduction To Design     1
DES 300 Design Process     3
DES 322 Computer Graphic Imaging    3
DES 324GW GWAR Research And Writing For Design     3
MAJOR REQUIREMENTS 15 units
DES 325 Graphic Design I     3
DES 327 Interactive Design I     3
DES 425 Graphic Design II    3
DES 427 Interactive Design II    3
(Choose At Least One Of These Classes)
DES 525 Graphic Design III     3
DES 527 Interactive Design III    3
MAJOR ELECTIVES 18 units
(Select at least 6 courses from this list. No more than 6 units may be 200-level classes)
DES 226 Modern Letterpress
DES 227 Rethinking Digital Visual Media
DES 256 Design And Society
DES 475 Topics In Design
DES 523 Information Design I
DES 524 Information Design Ii
DES 625 Design Practicum: Design Working Group  
DES 627 Adv Projects In Visual Communication Design - Ux (3)
DES 628 Design Gallery
DES 699 Independent Study
Other Elective By Advisement
Other Elective By Advisement
CULMINATING REQUIREMENT (6 units)
DES 505 Senior Design Project (3)
DES 570 Professional Practices For Design (3)
Welcome Letter to Incoming Visual Communication Design Students
Students are required to take DES 370 in their second semester on campus (first semester for Transfer students). In this class students will be assigned an advisor and you should meet with them right away to fill out an Advising Contract. BSVCD Advisors are: Prof. Christensen, Prof. Hulick, Prof Hussaini, Prof. McVeigh-Schultz, Prof. Singer, Prof. Sosa-Tzec, Prof. Trogu, and Prof. van Kampen.
After this first meeting, students should meet with their advisor at least once a semester to remain on track for a timely graduation. Faculty advising in Design is available during fall and spring semesters with limited advising during the summer and winter.
Students can meet with an advisor prior to entering the University via arrangement with the Design office. Students continuing with an advisor can book appointments on EAB Navigator.
Laptop Requirement
Students are required to purchase a laptop with required software when they begin the major. Students accepted into the Design program will receive hardware and software recommendations for their particular course of study. Please follow the specifications for each major: Visual Communication Design (BSVCD) or Industrial Design (BSID_PDD). Educational discounts on both hardware and software are available through the SF State Bookstore, and through various online vendors. If you qualify for federal financial aid and have not already been awarded the annual maximum in federal student loans, you may request an increase in the federal student loan to assist you with the purchase of the laptop.
Note: All Design Majors and Minors are eligible for free Adobe Creative Cloud licenses. View additional details about the laptop initiative, and download the Vis Com Laptop Specs here. 
Career Pathways for Visual Communication Design
Branding and Agency Graphics
Interactive Design
Print Design
Data Visualization
User Experience (2D and Screen)
The documents on this website/webpage might not be fully accessible to persons with disabilities. We are working to fix these accessibility barriers. If you experience difficulty in accessing this content, please contact the School of Design by email at design@sfsu.edu and we will provide you with accessible alternatives.