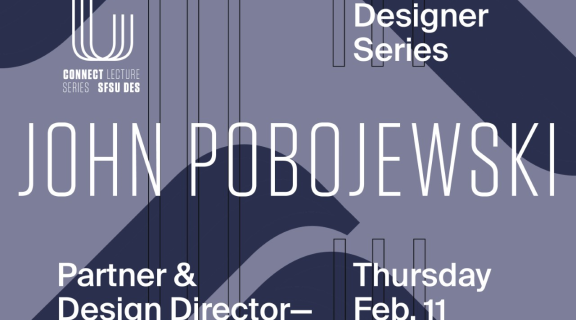 Connect Lecture Series Spring 2021: John Pobojewski
Thursday, February 11
Event Time
01:00 p.m. - 02:00 p.m.
Contact Email
ellenchristensen@sfsu.edu
Overview
John Pobojewski
Partner and Design Director
Span
John Pobojewski is a partner and design director at Span. Pobojewski focuses on intermedia and the blending of brand, interactive, sound, motion, and environments. John was featured as one of five designers profiled by Communication Artsin their 2016 feature "New Currents in Chicago Design." In 2007, he was named one of Print Magazine's "New Visual Artists: 20 under 30." John has also received professional recognition from the Type Directors Club, the Society of Typographic Arts, the Chicago Design Archive, AIGA, and SEGD. From 2003–2019, he was a designer and later partner at Thirst, and his work with the studio has appeared in many design publications including Graphis, ID Magazine, IdN Magazine, and is currently part of the permanent collections of the Art Institute of Chicago, Letterform Archive, and others. John has presented at numerous conferences including SALT Istanbul, the SEGD Conference, the Mas Context Analog Conference, AIGA National Convention, Processing Conference Chicago, and TEDx. He also lectures at colleges and universities around the U.S. As an intermedia artist, John has been part of several group exhibitions including Mark Applebaum's Metaphysics of Notation project at Stanford University, as well as five annual Typeforce exhibitions. His digital projections for Chicago Repertory Ballet's production of Macbeth brought "a contemporary look" and were "especially potent" according to the Chicago Tribune. John is a graduate of Northern Illinois University with a Bachelor of Fine Arts in Visual Communication and a Bachelor of Music in Performance. He lives in the Chicago area with his wife and daughter.
Tags