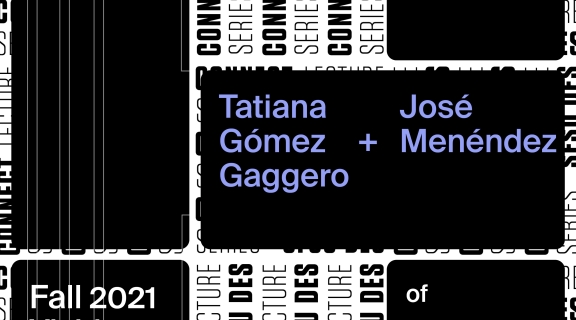 Fall 2021 Connect Lecture Series: Tatiana Gómez Gaggero and José Menéndez
Wednesday, November 10
Event Time
02:00 p.m. - 04:00 p.m.
Overview
Tatiana Gómez Gaggero is a Colombian graphic designer, printmaker, and educator based in Providence, RI. She has worked in graphic design studios in both Bogota and Boston, and has collaborated with cultural institutions such as the RISD Museum and the ICA in Boston. She has taught at the Rhode Island School of Design, at Boston University, and most recently at Moore College of Art and Design in Philadelphia as an AICAD post-graduate teaching fellow. Tatiana's work focuses on community oriented strategies and she practices as part of the team at Counterform: Community Design and Print Studio. She is also a collaborator on the research project Gráfica Latina, a digital archive of Latin American graphic design. Tatiana holds an M.F.A. in Graphic Design from the Rhode Island School of Design and a B.A. in Design from the Universidad de los Andes, in her native Bogotá.
José R. Menéndez was born in San Juan, Puerto Rico. He is a graphic designer and educator, with a background in science communication and landscape architecture. José's research is intertwined with his practice and teaching. He is currently pursuing research in the following areas of study: Latin American Graphic Design with an emphasis on Caribbean Graphic Culture, Community Design Initiatives, and Ecological Narratives in the Landscape. José is an Assistant Professor at the College of Arts, Media, and Design at Northeastern University in Boston, and has been a critic at the Rhode Island School of Design. He is also a partner at Counterform, a Community Design and Print Studio in Providence, RI.
Tags