Poster Design Competition Winners!
External Jurors Anne Berry and Michael Swoboda have selected the three winning posters of the competition promoted by the Conversations with Latin American Creators project. The competition encouraged students to research Latin American design tradition and aesthetics, in order to produce a piece to be used in the communication of two panels involving designers and filmmakers from a Latin American/Latinx background. Both panels will take place next week and are open to all the university community upon registration.
"The works presented in the Conversations with Latin American Creators poster competition were impressive to view. The submissions show energy and ambition. It is a pleasure to review such interesting and spirited work", said Swoboda about the entries which included the works of Chelsea Valles and Ben Bhat, at second and third place respectively.
The first place was granted to Monique Ferronatto whose design, according to Berry, "makes a strong visual statement—from the "cut paper" effect to the integration of color, content, and typographic design into a cohesive composition. One of the strengths of this entry was the way in which the student wrote compellingly about the aesthetic choices and how they are connected to and derived from Latinx art + design."
The winners will receive gift cards from an art supplies store in the combined amount of one-hundred dollars. The first place work by Ferronatto will be used in divulging the events associated with the project, in both digital and print media.
Thank you to all that participated, and congratulations to the three winning submissions!!!
Winning Posters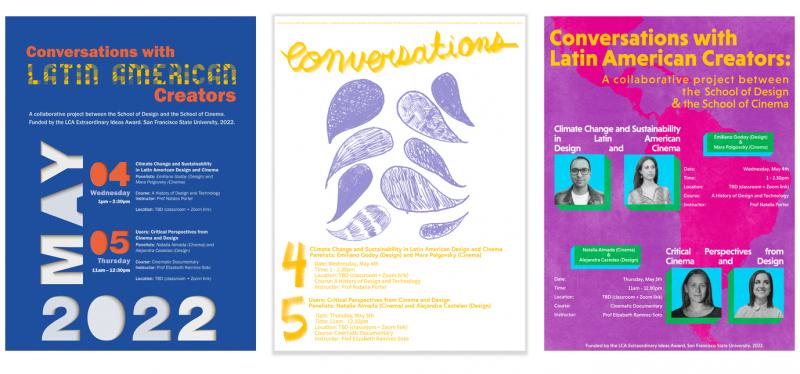 About the Jurors
Professor Michael Swoboda, M.F.A. in design from the University of Notre Dame, has spent his career in education, graphic communications, and commercial digital rendering. He was recognized and awarded by the American Association of Museums for two exhibition catalogs he designed for the Snite Museum of Art, been honored with the Emerson Excellence in Teaching Award, named Professor of the Year at Maryville University, elevated by his peers for the Faculty Lecture Award, and other teaching accolades. Michael has taught at STLCC – Meramec since 2001. He coordinates the NASAD accredited Graphic Communications program, and his main teaching focus is digital imaging, computer illustration, digital photography, design history, with particular efforts dedicated to graphic design instruction.
Anne H. Berry is an Associate Professor of Graphic Design at Cleveland State University where her research focuses on race/representation in the field of design and educational pedagogy. She is co-creator of the award-winning project Ongoing Matter: Democracy, Design, and the Mueller Report and managing editor of The Black Experience in Design book.