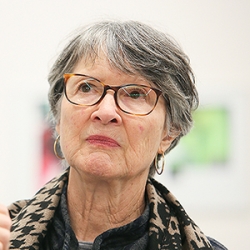 Jane Veeder BFA California College of Arts and Crafts
MFA School of the Art Institute of Chicago
A member of the pioneering Chicago electronic arts community from the mid-70's to mid-80's, Jane Veeder began her career as a video artist collaborating with the late Phil Morton and began working with digital computers in 1978. Once digital, she produced internationally exhibited animated and interactive computer artworks, in industry roles designed user interfaces for graphics software development and worked in creative management, and in academia served as an agent of change.
Her 1982 computer animated MONTANA was included in the NYMOMA inaugural video collection, in 1984 her interactive self-portrait game, WARPITOUT, went on permanent exhibit at the Ontario Science Center, and in 1985 Ars Electronica commissioned 4KTAPE.  A longtime SIGGRAPH contributor, she served on the executive committee 1990-1992, chaired a 1992 panel on computer animation, and two 1995 panels on the videogame industry.  Her work - prints, animations, and interactive installations - was included in several SIGGRAPH Art Exhibits starting in 1979.  She has given many talks/screenings, including two at NYMOMA, in 1986 on her computer art and again in 1996, on tool development trends and presented 3D animated JG3D. 
Veeder's 1980's work in industry includes user interface design, customer training, and documentation for Real Time Design, IL and Wavefront Technologies, CA and an executive role as Director of Animation at Atari Games/Time Warner, CA. 
Recently a subject of archeology, she has enjoyed contributing to a number of events and projects such as the book, New Media in the Arts: Prairie Style, featuring the work of women pioneers in creative computer graphics and digital media, Playback 1966: Artist Perspectives on Media, a BAVC event panel discussion on early electronic arts, MONTANA shown in the McEvoy Foundation Exhibit "No Time", and receiving a BAVC Preservation Access Program grant (NEA funded) to preserve early video and digital works to modern format.
In academia, Veeder taught introductory digital media topics at the Pacific NorthWest College of Art 1984-85, then from 1988-2017 at San Francisco State University built digital media labs, created new courses, and taught 3D computer animation, interactive multimedia, 3D virtual worlds design, motion graphics, history of digital visual media, and visual design literacy.  She worked on two interdisciplinary funded research projects, served a term as design department chair 2012-15, then transitioned into retirement.