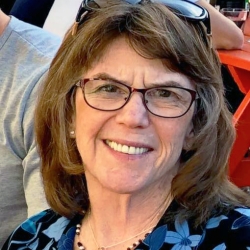 Nancy Noble served as a faculty member in the Department of Design and Industry, now the School of Design from 1979 until her retirement in 2014. She taught a wide range of courses including the DAI Core Foundation Program, the Graphic Reproduction Program, Research and Development, Computer Graphics Imaging, Drafting and Sketching. Her diverse teaching experience across the entire DAI curriculum made her a valuable advisor and contact to students and faculty over the years.
Nancy was the Study Abroad Coordinator for over ten years, accommodating and overseeing the success and well-being of our International Students and Faculty from around the world who have studied in DAI / DES and SFSU. She completed the first Faculty Exchange in 2003 to Brunel University, Runnymede, London, England. She taught eight times in Taiwan—the first three at National Taiwan University of Science and Technology in Taipei and then, moving on to Tainan University of Technology. She co-wrote the very successful International Workshop in Design course with Professor Steve Jones, taking her students to study in Germany while Steve brought his students to study in Japan.
Nancy devoted years to the continuation and support of Department / School organizations starting with the DAI Student Forum, Epsilon Pi Tau International, her many contributions to the Department and College GE Advising Program and the University Academic Senate.
Nancy's 35 years of Outstanding Accomplishments in the Areas of Higher Education Teaching, Professional Achievement and Growth, Collegiality, Service at the University, Community, State, National and International levels were recognized time and again.
Nancy was a longtime member of the San Francisco Club of Litho and Printing House Craftsmen, Printing Industries of Northern California and the Visual Media Alliance serving in a variety of roles. These industry organizations opened many doors for students in the form of scholarships, internships, field trips and equipment donation to the department.
In her retirement, Nancy continues to work in the creative field. She is the editor of the San Francisco Bay Area Friends of Calligraphy Bulletin and is the editor of the San Francisco State University Retirement Association. Her calligraphy and book arts happily consume most of her time. She exhibits her work in various venues and continues to teach whenever asked.