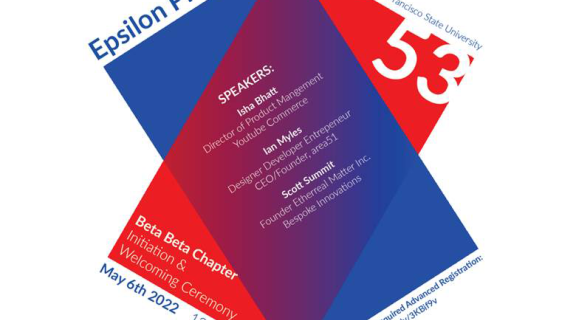 53rd Epsilon Pi Tau (EPT) Beta Beta Chapter, Initiation Welcoming Celebration & Speakers Program
Friday, May 06, 2022
Event Time
12:30 p.m. - 01:30 p.m. PT
Contact Email
ricgomes@sfsu.edu
Overview
You are Welcome to Attend the "53rd Epsilon Pi Tau (EPT) Beta Beta Chapter, Initiation Welcoming Celebration & Speakers Program" The EPT Beta Beta Chapter is an international honor society for professions in technology in the School of Design that is recognized by the University Honor Society. https://www.epsilonpitau.org/members/group.aspx?id=140603
Keynote EPT Beta Beta Chapter SPEAKER Program
We INVITE you to attend the Welcoming of the New EPT Beta Beta Initiates, Introduction, and Keynote SPEAKER Program which will be conducted from 12:30-1:30 pm. This Program will be OPEN to the PUBLIC.  Initiates are welcome to invite Faculty, Students, Guests, Family, and Friends.  (12:30 – 1:30 pm, Zoom entry open 12:15 PM). Faculty and Students can use the same Zoom Registration Link, but will be in a Waiting Room until 12:30 PM, or sooner, once the Initiation Ceremony is Completed.
The Theme of the EPT Welcoming Keynote session is: "Demystifying AI and The Indifference Towards People." There will be three (3) designated  Keynote presentations, who are scheduled to speak following the Initiation Ceremony and Executive Official Welcoming Greeting Statements, that will feature: 
Isha Bhatt, Director of Product Management, YouTube Commerce  (DES Graduate Program, Class of 2000)
Ian Myles, Designer, Developer, Entrepreneur, CEO, area51
Scott Summit, Founder of Etherreal Matter Inc and Bespoke Innovations
 
We hope that you will be able to join us
Registration
Register in advance for this meeting:
After registering, you will receive a confirmation email containing information about joining the meeting.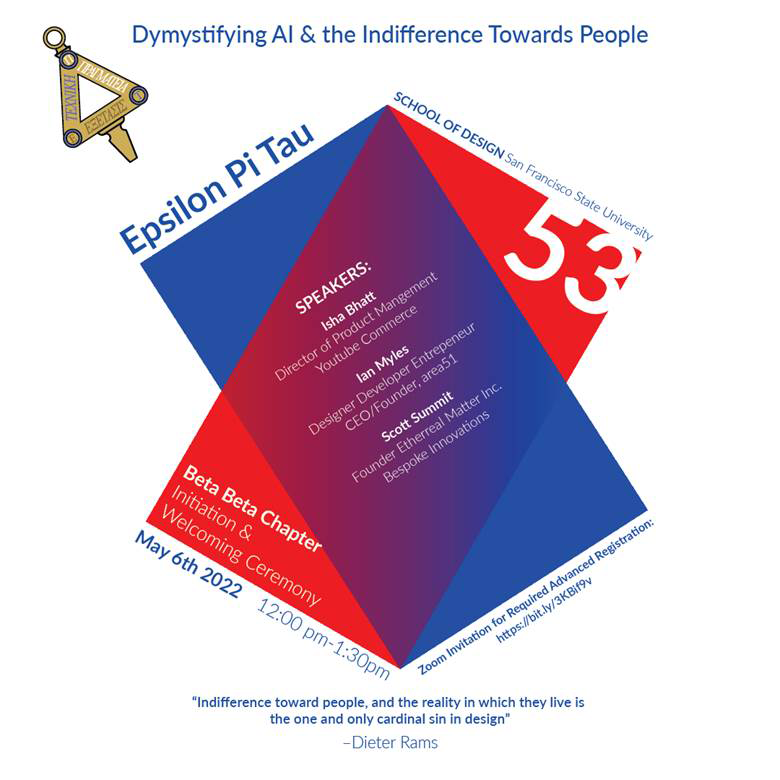 Tags