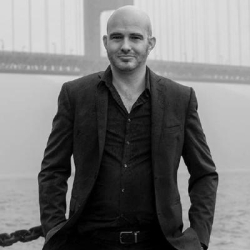 David Hurwich
Lecturer Faculty
Phone: (415) 338-2211
Email: davidhurwich@sfsu.edu
Location: Zoom
David Hurwich is an artist, designer, digital artist, occasional video editor and all around web development UX / UI craftsman. Before teaching full time he had been a contract designer for Genetech, the WB Channel, KQED, San Francisco TV channels and other companies around the Bay Area.
Since transitioning into teaching he has worked hard to hone the craft of teaching and communicating with others. He translates his passion for art and design into skills to be taught to others.
Mr. Hurwich currently teaches at City College of San Francisco and other schools around that Bay Area. Mr. Hurwich has also taught for the UC Davis, California College of the Art, Ex'pression School for the Digital Arts and the Miami Ad School. He is a top-rated Professor on Ratemyprofessor.com with comments that he 'is patient', 'understanding' and 'generally cool guy'.