Faculty/Student Panel Discusses Artificial Intelligence and the Future of Design Education and Practice
Tuesday, April 18, 2023
Event Time
12:00 p.m. - 12:55 p.m. PT
Location
Fine Arts building room 119
Contact Email
fcarvalho@sfsu.edu
Overview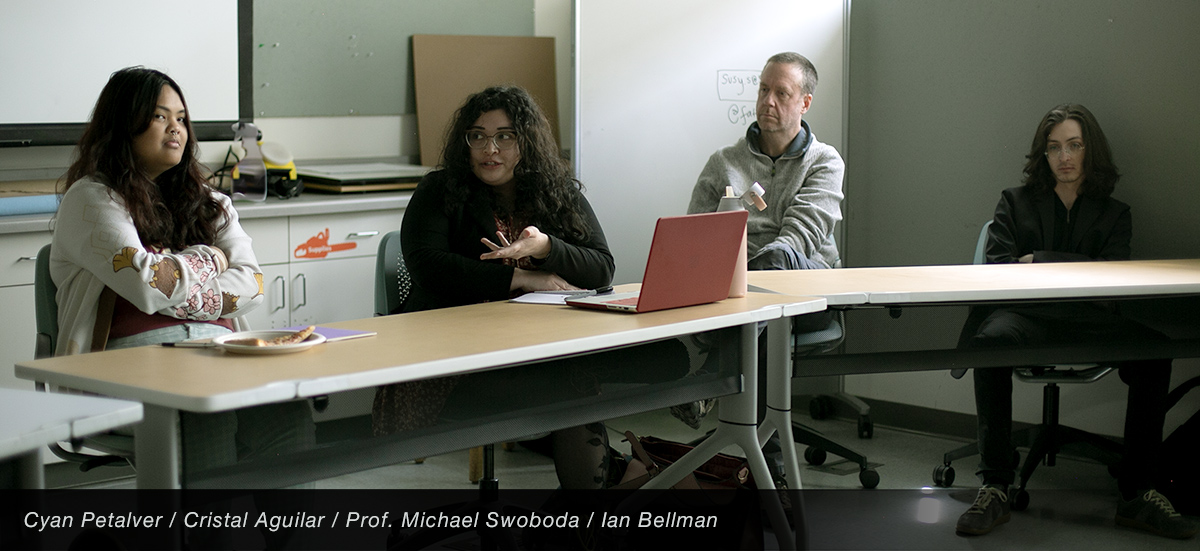 Student and faculty panelists (photo: Diana Trujillo)
Can A.I. Progress Be the End of Design as We Know It? A Chat About Chatbots and Other 'Intelligent' Technologies
School of Design, April 18th 2023.
A faculty-student joint panel sat down to discuss recent advancements in Artificial Intelligence, and the short- and long-term implications to design education and practice. The panel, composed by three SFSU design students, and three faculty (two in-house, one external) addressed issues of immediate practical application – such as the use of AI applications in the design process – as well as more philosophical, speculative subjects, drawing from personal experiences, and collective reflection.
The panel – composed by undergraduate students Cyan Petalver and Ian Bellman; graduate student Cristal Aguilar; and professors Michael Swoboda (from Saint Louis Community College at Meramec), Silvan Linn and Fernando Carvalho – gathered a diverse crowd of approximately 25 people, whose questions and comments complemented the discussion. An unexpected fire alarm (coincidence or machine revolt?!) interrupted the conversation half-way through, but the crowd did not shy away from the debate and continued the exchange of ideas outside of the Fine Arts building, as everyone waited for things to calm down inside.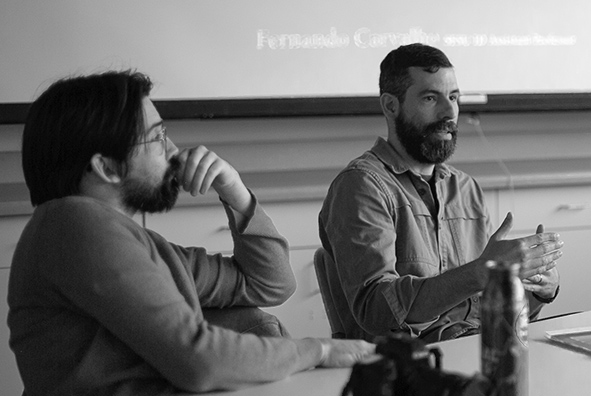 SFSU School of Design professors Silvan Linn and Fernando Carvalho (photo: Diana Trujillo)
Panel Participants
Cristal Aguilar (grad student, Design, SFSU)
Cristal Aguilar is a master student at San Francisco State University, pursuing a MA in Design and a graduate certificate in Ethical Artificial Intelligence. With a passion for designing the interactions between people and AI products, Cristal's ultimate goal is to become a leader in the field of AI design. They are committed to ensuring that the interactions between people and AI products are ethical, intuitive, and beneficial for all parties involved. Cristal originally has a background in 3D Animation and Film. Due to this, Cristal has a unique blend of creativity, collaboration, storytelling, technical expertise, and ethical awareness that make them a valuable asset to any team.
Cyan Petalver (undergrad student Visual Communication Design, SFSU)
My name is Cyan Petalver. I am a Visual Communication Design major and I have a background in illustration and social media. Because of my background, I have been following the growth of AI very closely. I remember where I was when the conversation around it was growing and the increasing anxiety from designers and creatives alike. I have since then learned a lot about the various uses of AI, including how it can be helpful to the design process, as well as the valid concerns centered around ethics and copyright. I know that artificial intelligence isn't going anywhere so I think it is important to have a discussion about it whether we like it or not. I have personally used it for my own creative process, but I do think there should be a precedent set for how to use it especially in a work or school environment.
Ian Bellman (undergrad student, Industrial Design, SFSU)
Increasingly ai tools such as Midjourney and Stable Diffusion have begun to create portfolio-ready images with composition and detail that rivals the quality seen in the vast amount of student design portfolios. As a student witnessing this radical change in the way digital images can now be easily created with text prompt manipulation, I'm beginning to learn about how to best use these new tools without compromising artistic integrity. The role and expectations of designers are rapidly changing and so are the tools used to do the job of a designer. In the past year, the quality of AI tools has vastly improved as such, designers should be informed and engaged with these tools that will inevitably change the landscape of design. Currently, I have been using ChatGPT for all questions related to Rhino3D along with it assisting me in writing Python script for Grasshopper.
Professor Michael Swoboda (Graphic Communications, SLCC at Meramec)
Michael Swoboda (MFA in Design from the University of Notre Dame) is a Professor at the Design, Visual, and Performing Arts Department at St. Louis Community College at Meramec in Kirkwood, Missouri where he directs and teaches for the NASAD accredited Graphic Communications program.
Professor Swoboda has spent his career in education, commercial digital imaging, and graphic communications. He has taught classes, delivered lectures, and created and conveyed workshops at colleges and universities and for institutions and corporations. He has a variety of commercial and academic clients for which he has designed books, catalogs, wayfinding and branding, and on-line media. He has been recognized and awarded by the American Association of Museums for exhibition catalogs he designed and has been honored with multiple teaching accolades including the Emerson Excellence in Teaching Award, The Faculty Lecture Award, and Professor of the Year.
Associate Professor Silvan Linn (Industrial Design, SFSU)
Silvan received a B.I.D. from Carleton University in Ottawa, Canada working on the design of smart assistive medical devices, and later an M.S.D. from Arizona State University studying slow technology and new theories of human-machine interfaces. His research interests include advanced rapid prototyping techniques, local-scale manufacturing, and product development, new human-machine interface concepts, smart products, and embedded technologies.
Prof Linn's interests and expertise focus on advanced prototyping techniques, small-scale/DIY manufacturing and product development, novel human-machine interface concepts.
Panel Mediator
Assistant Professor Fernando Carvalho (Industrial Design, SFSU)
Fernando Carvalho earned a Ph.D. in Design from Loughborough University (UK), and a Master of Fine Arts degree in Industrial Design from the University of Notre Dame (USA). He holds two BFA degrees –Visual Communication, and Product Design – from the Catholic University of Rio de Janeiro (Brazil).​ His main professional and research projects include healthcare products, services, and systems, with a focus on quality improvement and participatory behaviour change. Dr. Carvalho's design practice and scholarship include academic and professional works in Latin America, Europe, the UK, and the USA.
Professor Carvalho has a long-lasting interest in the history and advancement of technology, particularly in the relationships between technical and social progress. Artificial Intelligence has been a major focus of his recent research interests, including an online presentation titled An Ethics of Creation: Designing the Human, featured in the 2023 Design Principles and Practices conference, in Lisbon, Portugal.