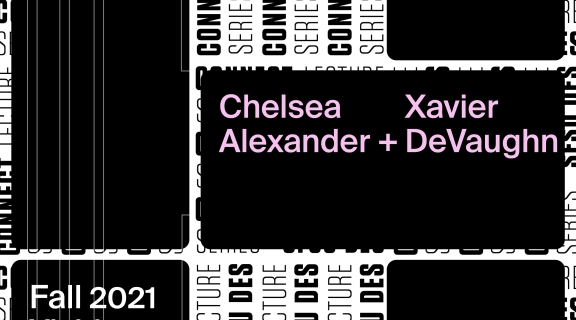 Fall 2021 Connect Lecture Series: Chelsea Alexander and Xavier DeVaughn
Tuesday, November 30
Event Time
01:00 p.m. - 02:00 p.m.
Overview
Xavier DeVaughn is a Design Consultant currently residing in New York City. He pursued his bachelor's degree in Graphic Design at the Rhode Island School of Design and Hochschule für Gestaltung und Kunst FHNW. His storytelling and visual approach create a language that questions the typical design practices and challenges design thinking through brand identity, information design, and poster design. He nurtures his clients' missions and goals to produce positive growth for their customers and communities with his practice.
Chelsea Alexander is a humble & curious designer currently living in New York. Originally from Austin, Texas, Chelsea previously lived in Basel, Switzerland to explore art and design internationally. Chelsea works in many mediums of design to help build stories as something original to experience.
Tags