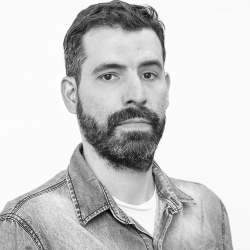 Fernando Carvalho
Assistant Professor
Industrial Design
Phone: (415) 338-7316
Email: fcarvalho@sfsu.edu
Location: Zoom
Office Hours:
Mon:
4:30 p.m. - 5:30 p.m.
Thu:
10:00 a.m. - 12:00 p.m.
Assistant Professor Fernando Carvalho earned a Ph.D. in Design from Loughborough University (UK), and a Master of Fine Arts degree in Industrial Design from the University of Notre Dame (USA). He holds two BFA degrees –Visual Communication, and Product Design – from the Catholic University of Rio de Janeiro (Brazil).​ His main professional and research projects include healthcare products, services, and systems, with a focus on quality improvement and participatory behaviour change. Dr Carvalho's design practice and scholarship include academic and professional works in Latin America, Europe, the UK, and the USA.
Dr Carvalho has authored utility patents and won many scholarships, and teaching and professional awards. He has co-founded and co-directed a design studio (LEVANTE Design) that provided collaborative solutions with social relevance and impact for nonprofit, governmental, and corporate clients. His professional portfolio contains a broad range of works that include healthcare services, medical devices and hospital interiors, Paralympic sports accessories, digital design, civil construction equipment, information design, and innovative educational solutions, working for the NHS, Memorial Hospital of South Bend, Unicef, Ciespi, Heineken Brewers, Kiefer Aquatics, Sony Music, and the Federation of Industries of Rio de Janeiro.
Research and Teaching
Dr Carvalho's research investigates the integration of Participatory Design approaches and Behavioural Insights into healthcare systems and service improvement. His projects focus on optimizing clinical practice and changing staff behaviour, as well as improving care environments and patient experiences. In his doctoral research, Prof Carvalho developed an original model, the Participatory Design for Behaviour Change framework, which promotes sustainable improvement by facilitating contextualised, collaborative innovation within healthcare settings.
Fernando has been actively involved in teaching and research for the past fifteen years, having taught and contributed with curriculum development and managerial work in settings as diverse as afterschool projects for children in the slums of Rio de Janeiro, craftsmen training courses, and undergraduate and postgraduate programs in design and architecture within Universities in the USA (San Francisco State University, University of Notre Dame), the UK (UAL/London College of Communication, Nottingham Trent University, Loughborough University), and Brazil (PUC-Rio, IED-Rio, UNESA).
Prof Carvalho's encompassing design training and professional practice has enabled him to conceive, prepare and deliver courses focused on the development of intellectual, conceptual, or strategic competencies – such as design practice, research methods, design thinking, design for behaviour change – as well as courses mostly based on the acquisition of technical or technological skills – including drawing and sketching, model making, digital modelling and rendering. Dr Carvalho's research has been published in academic journals and presented internationally in conferences such as PDC, IDSA, IASDR, DRS, and IEA.
See some recent examples of Prof Carvalho's teaching practices at SFSU here: https://design.sfsu.edu/dream-project
Creative Work 
Dr Carvalho has curated, organized, and exhibited in solo and group shows in venues such as the Museum of Modern Art, the Museum of National History, the Cultural Center for Citizenship Action, and the Carioca Center for Design (Brazil); the National Museum of Decorative Arts (Spain); City Arts Gallery (UK); Meramec Contemporary Art Gallery, and Crossroads Gallery (USA).
Selected Publications
Carvalho, F., Hurford, T. & Campbell Cole, I. (2022). Critical writing supporting critical making: The design essay assignment. INNOVATION, Winter 2022 issue, 28-33. 
Prendiville, A., Macduff, C. & Carvalho, F. (2022). Service Design methods: Re-envisioning Infection Practice Ecologies in Nursing to address AMR (Anti-microbial resistance). In M.A. Pfannstiel, C. Rasche & N. Brehmer (eds.). Service Design practices for healthcare innovation: Paradigms, principles, prospects. Springer.
Carvalho, F. (2021). Designing on the edge of civilisation: Reflecting on the future of design in times of crisis. In International Design Conference, Proceedings of the IDSA Education Symposium, Breaking Down Barriers: online.
Aceves-González, C., Avila-Landa, C.I., Carvalho, F., Ortega-Ruíz, B.A. & Jun, G.T. (2021). Ergonomía en los sistemas de salud de américa latina: Revisión sistemática de la situación actual, necesidades y desafíos futuros. Ergonomía, Investigación y Desarrollo, 3(2), 10-27. DOI: https://doi.org/10.29393/EID3-11ESCG50011.
Carvalho, F., Jun, G., & Mitchell, V. (2017). Participatory Design for Behaviour Change: An integrative approach to healthcare quality improvement. In IASDR, Re: Research (pp. 193-213). Cincinnati: University of Cincinnati. DOI: 10.7945/C2997X.
Website(s):