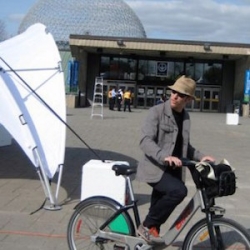 Joshua Singer
Associate Professor
Visual Communication Design, BSVCD Program Coordinator
Phone: (415) 338-6067
Email: jsinger@sfsu.edu
Location: Zoom
Office Hours:
Wed:
1:00 p.m. - 2:30 p.m.
Fri:
1:00 p.m. - 2:30 p.m.
Joshua Singer is an Associate Professor in the School of Design at San Francisco State University. He specializes in critical/speculative design and design fiction crossing disciplines of graphic design, design research, geography, and semiotics. His current work uses instrumental methodological design research to document typographic artifacts in the urban landscape incorporating theoretical conceptual research to generate speculative models.
He received his B.A. from Hampshire College, M.F.A. in Fine Art from the City University of New York/Hunter College, and M.F.A. in Design from California College of the Arts.