Design Graduating Seniors Learn More About How to Present Their Creative Projects
School of Design, April 17th 2023.
Students in both sessions of Prof Fernando Carvalho's DES.505 Senior Design Project had a lecture/workshop focused on how to professionally present their creative projects, developed within and beyond their time at San Francisco State. The activity was led by Prof. Michael Swoboda, an experienced Visual Communication designer and seasoned academic, with many accolades and years of professional experience.
Prof. Swoboda shared a number of outstanding exemplars from his students at Saint Louis Community College at Meramec, where he is the Graphic Communications Program Director. Michael has additionally showed some professional work of his own, as well as demonstrated some practical techniques, using our students' works in his live demos.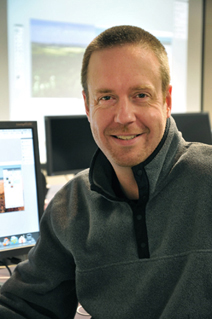 Michael Swoboda (MFA in Design from the University of Notre Dame) is a Professor at the Design, Visual, and Performing Arts Department at St. Louis Community College at Meramec in Kirkwood, Missouri where he directs and teaches for the NASAD accredited Graphic Communications program.
Professor Swoboda has spent his career in education, commercial digital imaging, and graphic communications. He has taught classes, delivered lectures, and created and conveyed workshops at colleges and universities and for institutions and corporations. He has a variety of commercial and academic clients for which he has designed books, catalogs, wayfinding and branding, and on-line media. He has been recognized and awarded by the American Association of Museums for exhibition catalogs he designed and has been honored with multiple teaching accolades including the Emerson Excellence in Teaching Award, The Faculty Lecture Award, and Professor of the Year.
Tags