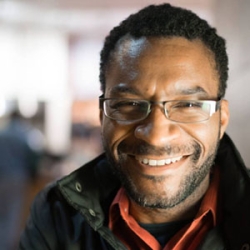 Eugene Young
Assistant Professor
Visual Communication Design
Phone: (415) 338-2211
Email: eryoung@sfsu.edu
Location: Zoom
Office Hours:
Fri:
3:00 p.m. - 5:30 p.m.
by appointment and held online via Zoom.
Eugene Randolph Young, M.F.A. is a graphic designer, illustrator, fine artist and educator. Since 2007, he has served as part-time faculty in City College of San Francisco's Visual Media Design department. There, he developed new curricula for courses in Adobe Illustrator, storyboarding, visual development for animation, rapid visualization and the recently-launched Practices of Making maker studies course. At Dominican University of California, he taught courses in graphic design, digital painting and graphic novel. At the California College of the Arts, he teaches the first and longest-running open enrollment digital drawing and painting intensive.
He received his Master of Fine Arts (M.F.A.) degree in Illustration from the Academy of Art University, Bachelors of Fine Arts (B.F.A.) with distinction in Graphic Design from the California College of Arts and Crafts and an Associate in Arts (A.A.) degree in Graphic Design from City College of San Francisco.
His professional practice currently focuses on the independent production of original afrofuturism-inspired comics, science fiction and fantasy illustration.