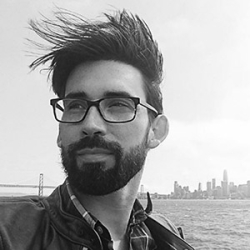 Silvan Linn
Associate Professor
BSID Program Coordinator, Industrial Design
Phone: (415) 338-7984
Email: silvan@sfsu.edu
Location: HUM 250
Office Hours:
Tue:
4:00 p.m. - 6:00 p.m.
Thu:
4:00 p.m. - 5:00 p.m.
Silvan received a B.I.D. from Carleton University in Ottawa, Canada working on the design of smart assistive medical devices, and later an M.S.D. from Arizona State University studying slow technology and new theories of human-machine interfaces. His research interests include advanced rapid prototyping techniques, local-scale manufacturing, and product development, new human-machine interface concepts, smart products, and embedded technologies.
Advanced prototyping techniques, small-scale/DIY manufacturing and product development, novel human-machine interface concepts