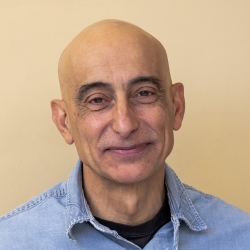 Graphic Design / Industrial Design Interdisciplinary
Phone: (415) 338-1954
Email: trogu@sfsu.edu
Location: Zoom
Office Hours:
Thu:
9:00 a.m. - 12:00 p.m.
Pino Trogu is a Professor of Information Design. He teaches data visualization, drawing, and letterpress. In 2017–2018 he was a visiting scholar at Delft University of Technology (TU Delft), the Netherlands, conducting research on bio-inspired design and transformable origami structures (meta-materials). He was a Fulbright scholar to the Rhode Island School of Design, where he received his Master of Fine Arts in 1985. His recent publications include: "Giorgio Scarpa's Model of a Sea Urchin Inspires New Instrumentation", Leonardo, MIT Press, 52.2 (2019); "Counting But Losing Count: the Legacy of Otto Neurath's Isotype Charts", Visible Language, 52.2 (2018); and "The Landscape of the Physical Book: Space and Memory in the Printed Page", TXT, Amsterdam University Press (2018).
Data visualization, bio-inspired design, drawing, letterpress & bookbinding.