Professor Gomes, guest editor of special issue on "Diversity, Equity & Inclusion from the African Diaspora"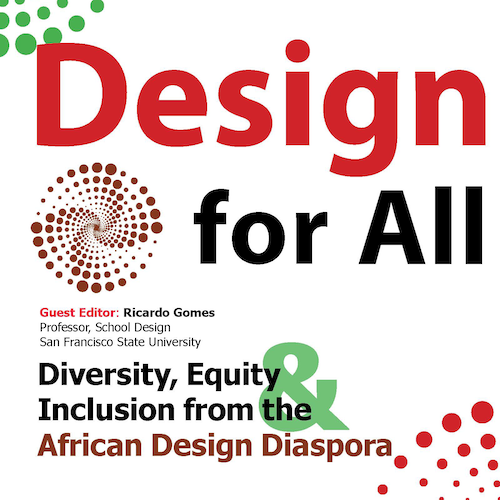 Professor Gomes edited the 12th issue (December 2021) of the online publication "Design for All (DFA)," which focused on "Diversity, Equity & Inclusion from the African Diaspora." This issue highlights and features some of the exemplary literary creative works of seven (7) outstanding distinguished academic scholars, art historians, communication strategists, product and visual communication designers from the African Design Diaspora. Prof. Gomes felt honored to bring together such a distinguished group of African Diaspora Art and Design creatives to share with the DFA readers.
Prof. Gomes remarks:
the unique and distinct writings expanded, enhanced and explored the DEI domain from its placated mainstream convention, and painful historical institutionalized reckoning, to reveal a more candid, unapologetic, positive initiative, and visionary reality. The reclamation, and reframe, took us full-circle towards an empowered, sustainable and impactful leadership manifestation.
Professor Gomes also acknowledged the creative Publication Design & Layout Art Director, of Ayana Airakan-Mance, Lecturer Faculty colleague; the Cover & Layout Design work of Samrat Sharma, DES Student/Archive Research Assistant; and the Copy Transcription work of Andrew Basayne, DES Grad Student/Archive Research Assistant, for their valuable production publication contributions.
Download the publication by clicking on the "Download" button.