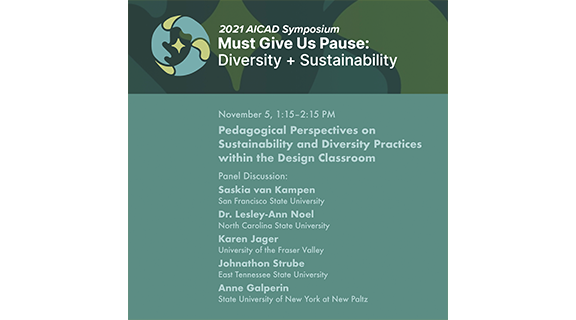 School of Design's Assistant Professor, Saskia van Kampen hosts panel discussion at the 2021 AICAD Symposium on Diversity and Sustainability in Design
Friday, November 05, 2021
Event Time
01:15 p.m. - 02:15 p.m. PT
Location
Online [Registration Necessary]
Contact Email
design@sfsu.edu
Overview
What is sustainable diversity? Is it about diversity in approaches to sustainability, is it about sustaining practices related to diversity or is it something else? This panel will explore how this question resonates differently with each of them based on their individual lived experiences as design educators, exploring the intersections of issues around diversity, equity and inclusion, social justice, and the environment. In "Designs for the Pluriverse" Arturo Escobar advocates for new approaches in design that are rooted in justice and nature. These questions of justice cannot be addressed without considerations of plurality and pluriversality, or the idea that we are all living in many different worlds. And so, creating and nurturing respect, justice, opportunity, for all requires more vigilance and attention to outreach and inclusion.
How do instructors frame sustainability issues in design to students from diverse backgrounds who may be primarily looking for employment within an industry focused on material production?
How do instructors create an inclusive learning environment where students contribute to discourse?
How can design education reflect pluriversality around issues of sustainability?
As Johanna Drucker asks in Ethics in Design and Communication "If we perform ethical work while continuing to practice and live within the very systems that perpetuate the abuse we protest, then how does this amount to an ethical agenda?" The panelists see sustainable diversity as a way to equip students with new knowledge and new methods to design a more equitable bio-centered world, but, despite more than 100 years of combined experience in design and design pedagogy this panel cannot hope to provide answers to these problems. This panel also upholds culturally relevant approaches to environmental education, including the Indigenous concept of seven generations stewardship — where decisions are made considering their effects seven generations into the future. This panel will provide a platform for discussion and sharing of concerns and ideas in order to build stable ground on which methods for sustainable diversity can grow in a profession fraught with contradictions.
Event Details
Panel "Pedagogical Perspectives on Sustainability and Diversity Practices within the Design Classroom" 
November 5, 1:15-2:15 PM.