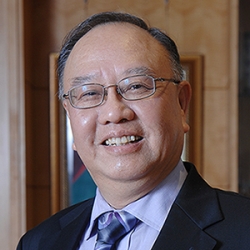 Dr. Wan-Lee Cheng, is a Chair Professor at Chung Yuan Christian University (CYCU), Taiwan, R.O.C., and a Member of the University's Board of Trustees. He is also a Professor and Dean of Emeritus of San Francisco State University.
Between 2006-2012, Dr. Cheng served as the 8th President of Chung Yuan Christian University. In his tenure as the President, he was a national leader in promoting Holistic Education through implementing holistic competency-based curricula, and engaging faculty and students in Service Learning. In addition, he strongly supported campus internationalization, industry and academia cooperation, university development and fundraising, and Design with Social Responsibility. From 2007 to 2017, Dr. Cheng led a Ministry of Education National Project—"Elite Study in Taiwan." In his tenure, Dr. Cheng created a Taiwan consortium of 67 university members to establish official talent mobility agreements with the national and regional governments of Vietnam, Indonesia, and Thailand. Since 2007, more than 1,000 young talents from these three countries have completed or are in the process of finishing their advanced degrees (Master's or Doctoral levels) or training in Taiwan.
Dr. Cheng's higher education career began at Iowa State University in 1974 and continued at the University of North Dakota for nine years.  Upon joining San Francisco State University as Professor and Chairperson in the Department of Design and Industry (1985-1993 and 1995-2000), now School of Design, Dr. Cheng created new curriculum areas in digital imaging and processing and computer-aided design. He was also responsible for the development of the Visual Communication Design program and the creation of the Bachelor of Science in Industrial Technology degree. In 2000, he was appointed as the Associate Dean of the College of Creative Arts at San Francisco State University. Five years later, he became Acting Dean and then Dean of the College until he was recruited to be President of Chung Yuan Christian University in 2006.
Dr. Cheng has an undergraduate degree in Mechanical Engineering from Chung Yuan Christian University, a Master's degree in Industrial Arts from Sul Ross State University, and a Ph.D. in Industrial Technology and Education from Iowa State University. He has published and presented more than 50 pieces in national and international journals and conferences. His expertise ranges from graphic tone-reproductions, portable document format workflow to product market analysis, universal design, and design education.  During his 36 years in the United States, and 12 years in Taiwan, he served on many professional and community boards and contributed his expertise to the promotion of international cultural and art exchanges. Recent awards and honors include Outstanding University Leadership Award by the Ministry of Education, Taiwan;  Endowed Chair Professor, Chung Yuan Christian University; Distinguished Service Citation from Epsilon Pi Tau; Bautzer Faculty University Advancement Award from the California State University System; and Outstanding Professor of Industrial Technology from the National Association of Industrial Technology.