The San Francisco State Scholars program provides undergraduate students with an accelerated pathway to a graduate degree.  Students in this program pursue a bachelor's and master's degree simultaneously, allowing students to earn graduate credit while in their junior and/or senior year, reducing the number of semesters required for completion of a master's degree. 
The School of Design's SF State Scholars Program allows undergraduates to earn an M.A. in Design degree in as little as one extra year.
Please review the eligibility requirements for the SF State Scholars Program. Interested students are asked to book an advising appointment with the Graduate Coordinator, Dr. Hsiao-Yun Chu.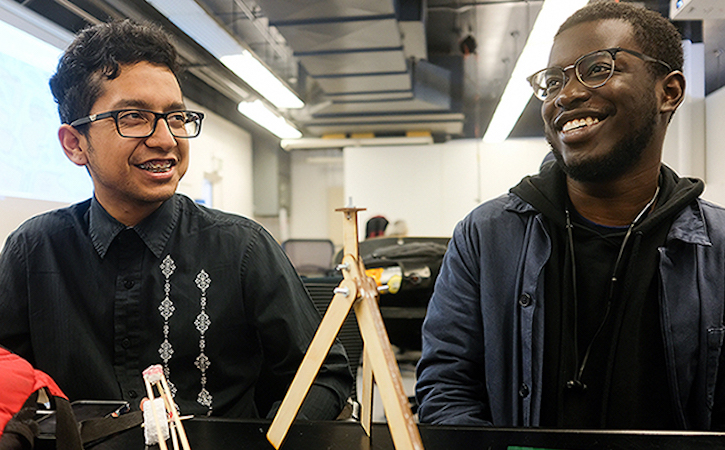 DES major students are eligible to apply to the program as an SF State undergraduate before completing 90 semester units and before enrolling in their senior capstone course.
Students must have a 3.0 cumulative GPA or 3.0 in the last 60 semester units.
Students may complete all GE lower division requirements before applying for an SF State Scholar program.
Students must not be declared in another major or second baccalaureate. Non DES-majors are not eligible.
While in undergraduate status, students may count a maximum of 15 units toward their master's degree, but the precise number will be determined upon advising.
Applicants must have a Supporting Faculty Member who will write them a recommendation letter and approve their official application. Prior to applying, please approach a DES faculty member who is familiar with your work and who can support your application with a recommendation.
Application Materials
Application Procedures
The application to the SF State Scholars Program in Design comprises of two parts. The first is the Official Program Application. This official application requires you to complete a plan of study with the graduate coordinator in Design (or other designated faculty member).
The second part is the Supplemental Application for the SF State Scholars Program which is listed below. Both parts of the application, the Official Application and the Supplemental Application, are required.
 
Deadline for Applications
Applications are due on or before April 1 of the semester preceding the applicant's final undergraduate year (normally, April 1st of your junior year.) Email both parts of the application to design@sfsu.edu with the subject line "SF Scholars Program Application."
Students who are graduating are not eligible for the SF State Scholars Program.
The SF State Scholars Program is an accelerated track, and not all students who apply will be accepted. Students not accepted into the Scholars Program are welcome to apply to the M.A. Program through the regular channels in the future.